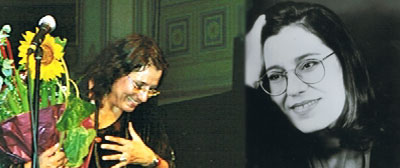 MARIA FARANTOURI (GESANG)

gilt nach wie vor als DIE Stimme Griechenlands. In ihrer Heimat ist sie anerkannt als Künstlerin, deren Platz bisher keine andere einnehmen konnte. Unverwechselbar, fest ver-
wurzelt im Kosmos griechischer Musik, verbindet sich der Name Maria Farantouri darüber hinaus überall auf der Welt mit Impressionen vom Ursprungsort der europäischen Kultur.
Und wenn man diesen als die "Wiege" bezeichnen möchte, wohnt diesem Begriff sicher etwas von der wunderbaren Atmosphäre inne, die sich bei Auftritten der Sängerin herstellt.
Pathos, Charisma, Aura – all dieses Urgriechische macht die Persönlichkeit der Maria Farantouri aus. Und nicht zuletzt auch, was in der heutigen Welt selten geworden ist:
Mythen gerecht zu werden.
+++++
Maria Farantouri was born in Athens. She is well known all over the world as the ideal interpreter of the works of Mikis Theodorakis. Maria has played an important role in the movement for the revival of Greek music. She is considered the most authentic interpreter of the songs of the Greek composer. Her rich contralto voice with its broad range and melodic quality, combined with a fine instinct, are the main features of her art and make her a superb exponent of a wide range of musical styles.
In the year 1967 she left Greece and joined the struggle against the military junta, giving thousands of concerts all over the world in the largest concert halls such as John F.Kennedy Center in Washington, London's Royal Albert Hall and Royal Festival Hall, the Salle Tchaikovsky in Moscow, the Berlin Opera House and the Paris Olympia. During the dictatorship and the years following it, Maria became the Greek people's symbol of resistance and hope. She participated in many festivals for disarmament and peace, and protested any form of political oppression, performing with other famous singers such as Myriam Makeba, Juliette Greco, Maria del Mar Bonet and the Chilean group Inti Illimani.
Farantouri's expressive voice as well as the high quality of her repertoire have drawn high praise from critics and music lovers everywhere. The Guardian wrote: "Her voice is a controlled passion, a battle cry waiting for a top G to let itself go. She is unique; her voice is a gift from the Gods of Olympus". The music critic of Le Monde described her as "The Joan Baez of the Mediterranean". In his book, The Bee and the Architect, the late President of the French Republic, François Mitterrand, wrote: "For me Greece is Maria Farantouri. This is how I imagined Goddess Hera to be: strong, pure and vigilant. I have never encountered any other artist able to give me such a strong sense of the divine".
Among Maria's most important interpretations of Mikis Theodorakis are Canto General, a setting of the poetry of Pablo Neruda, who attended the rehearsals himself, Romancero Gitano, a setting of poems by Federico Garcia Lorca, adapted in Greek by the Nobelist poet Odysseus Elytis, for which Farantouri collaborated with classical guitarist John Williams, and the Ballad of Mauthausen, a settings of poems by Iakovos Kambanellis, which she performed together with the Israeli Philharmonic Orchestra conducted by Zubin Mehta at the Herod Atticus Theatre of Athens in August 1991.
Maria has given thousands of concerts on all continents and has made dozens of CD productions in Greece and abroad. Maria's international repertoire includes Songs of Protest, songs by the Turkish composer Zülfü Livaneli and songs by Lucio Dalla. In the 17 Songs arranged for her by the Cuban composer Leo Brouwer with guest appearance of Mercedes Sosa, she interpreted Caetano Veloso, Milton Nascimento, Michel Legrand, Nicola Piovani and Kurt Weill. In the same double album she also performed songs by Vangelis, especially composed for her. By special invitation, Maria appeared at the Berliner Ensemble of Bertold Brecht, singing Brecht in her native language. As a result of this success, Maria had the privilege of presenting Eckerhardt Schall of the Berliner Ensemble to the Greek people in a joint concert.
Although she is best known as an interpreter of Theodorakis' music, Maria has collaborated with a number of other Greek composers such as Manos Hadjidakis. Her most recent interpretations of Greek composers are those of Eleni Karaindrou, Nikos Papazoglou, Pericles Koukos, Lena Platonos and Nikos Xydakis.
Her latest recordings are: "A Homage to Federico Garcia Lorca", which includes three Lorca works, "Blood Wedding" (set to music by M.Hadjidakis and adapted in Greek by Nikos Gatsos), the famous Spanish songs "Canciones Populares" and "Romancero Gitano" (M.Theodorakis - Odysseus Elytis) and "A Century of Greek Song", with some of the best Greek songs of the 20th century. Recent releases also include the live recordings "Poetry in Greek Music" and "Mosaic" with songs from Mediterranean countries, (Greece, Turkey, Israel etc) and a joint CD with the famous Greek pianist Yannis Vakarelis.
Apart from her artistic activities, Maria Farantouri has always been very greatly involved in the cultural and political life of Greece. She was a member of the Greek Parliament from 1989-1993 representing the Panhellenic Socialistic Movement (PASOK).
On September 23rd, 2004, the President of the Greek Democracy, Mr Constantine Stephanopoulos, recognised the contribution of Maria Farantouri to Greek culture, awarding her the Gold Cross of the Order of the Phoenix.
website: www.farantouri.gr